Crepe Erase Reviews – Skin Care Tips To Fix Crepe Paper Skin
About Crepe Erase
Crepe Erase from Guthy-Renker is set of skin-care products that claim to get rid of "crepey" skin and will start working the moment you apply it. Crepe Erase is promoted by the eternally young-looking Jane Seymour and said to contain TruFirm, a set of plant extracts, that have helped 100% of users look and feel better with the very first use.
The Crepe Erase Pitch
Crepe Erase's main spokeswoman is actress Jane Seymour, who, according to the website is 63 years old and a Crepe Erase User. It also features testimonial from Dr. Jame Haskett, who says she did a "double take" when she first saw the results of a patient using Crepe Erase. Dr. Haskett runs a practice called The Wellpath that focuses on natural anti-aging solutions and has been featured on the Dr. Oz program 3 times. She is also the "Brand Ambassador" for Vine Vera, a different skin care product. (It should be noted that both these women are paid for their endorsement of Crepe Erase.)
Crepe Erase also makes the impressive claim that 100% of users saw results, reporting that their skin instantly felt healthier on first application. After 4 weeks they state 94% said their skin appeared plumper and after 8 weeks 88% said their skin appeared less crepe-like and 86% claimed it appeared renewed.
However, they don't list the specifics of this study, except to say it is based upon user perception and results may vary. "User perception" means it is self-reported and not on any external criteria or measurements. We also don't know if it was a double-blind placebo trial and how many participants were involved. Without these additional criteria, these numbers are essentially meaningless, except as an advertising tool. (If you would like to know more about how to read a clinical study, read our article here.)
What's In Crepe Erase?
In this crepe erase reviews, you will learn more about this product. There are several different products sold with the Crepe Erase package including an Exfoliating Body Polish, Restorative Facial Treatment, and Advanced Firming Eye Serum. However, all of them are said to contain a trademarked ingredient they call TruFirm, which they state is a triple complex of skin-restoring plant extracts that work together to help promote healthy collagen and elastin (the stuff that makes young skin springy and spongy) and support and reinforce your skin's own "netting".
They don't specifically list the ingredients of TruFirm and Crepe Erase but we found a listing that says they contain shea butter, cocoa butter, olive oil, coconut oil, beeswax, dill extract, and apple extract.
Crepey skin can happen at any age, and you don't have to be overweight to have it. I've had mine since my 20's when I was both young and thin. In the past 30 years, I've tried many different solutions and serums that claimed to obliterate crepey skin. While some did temporarily change the appearance of my skin by puffing it up which meant I had fat eyelids, at least they weren't crepey But the effect was gone soon after I washed it off, and there was no change to the skin at all.
But worse, when I perspired, the cream would run into my eyes and sting and there was a sting upon application to my eye area. None of that happened with the Crepe Erase. It neither burned on application or when I accidently rubbed my eye after applying it and before wiping my hands clean.
VIDEO:

How To Fix Crepe Paper Skin – Dr. Bill Johnson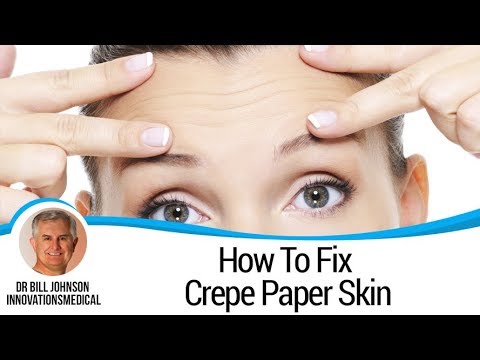 Dr. Johnson goes through three examples of where crepe paper skin can be an issue. Knees, Arms, and Stomach. Each can be treated with 1 treatment using Thermage. Look at his before and after photos.
In this crepe erase reviews, we are try as much as possible to guide our blog reader of a better alternative to Crepe Erase  which is Crepe Correcting Body Complex is a rich, nourishing cream that can fix crepey skin, without surgery. You'll also be able to smooth the appearance of fine lines and wrinkles, hydrate your skin down to the cellular level, and improve elasticity.